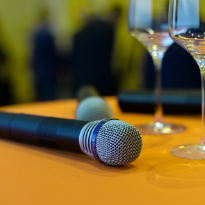 Does your business have an effective AV presence?
CRSG, the Long Island IT experts, offer Audio-Visual services for the modern office, hospitality industry, and many other organizations that are in the market for a dynamic AV system. Most businesses could use a professionally-designed, installed, and maintained audio-visual system, but hedge on its perceived extravagance only to end up wasting significant amounts of time fumbling around with antiquated technology.
CRSG can change that with one simple phone call.
Let's take you through our comprehensive AV service.
Professional Design
A properly designed AV system can pay for itself!
With the right AV system, you can promote efficient communications, improve the ambiance and function of your entire property, stop wasting time, and even add a revenue stream.
Our knowledgeable consultants can work with you to help you design the AV system that's right for your organization.
We offer solutions for the following venues:
Restaurants & Bars
Banquet Halls & Ballrooms
Meeting & Conference Rooms
Reception Halls
Churches
Convention Halls & Auditoriums
Some of the many AV solutions we offer include:
Video Conferencing
DJ/Dance Sound Systems
Live Event Sound Systems
Background Audio Sound Systems
Projection with Integrated Audio
Distributed Video Systems
Integration/Control Systems
Paging Systems
Our design team will assess your property and create a plan that aims to provide your users the ease-of-use they're looking for by using industry-leading control technology. Whether you want a simple remote control, a full-featured mixer, or something in-between, CRSG's design will always promote efficient usability.
All of our designs feature top industry brands including Harman audio products. Using only the best hardware ensures that any AV system CRSG designs carries rich, full sound that is sure to make an impression.
Implementation and Installation
Expert installation by the IT professionals at CRSG
Once your AV system has been customized to your exact specifications, our experienced experts will professionally install all of the infrastructure. Since our team is versed in all manner of business and consumer technology, we are able to efficiently install, test, and get your entire AV system up and running in no time.
Support & Training
CRSG is never one and done!
At CRSG, we take support very seriously. All of our AV systems come backed with our on-going support and training to ensure that any solution we provide continues to function optimally for many years to come. Our consultants will work with your staff to ensure that they have the baseline knowledge necessary to function the solution provided. More than that, since our success directly depends on our clients' success, we are completely invested from day one.
What are you waiting for?
If your company's AV system is old, non-existent, takes three people to operate, or is constantly malfunctioning, having the professionals at CRSG design a custom AV system that is powerful, easy-to-use, and, best of all, backed by our experienced technicians, is a business strategy you won't regret. For more information call us today at (631) 371-2555!